EDITOR:

February 13th, 2015

|
Theralase's Lead Anti-Cancer Drug Has Significantly Less Skin Toxicity than FDA Approved Drug
|
February 13, 2015 (Source: Accesswire) — Theralase Technologies Inc. ("Theralase") (TLT:TSXV) (TLTFF: OTC Pink(R)), a developer of advanced Photo Dynamic Therapy ("PDT"), for serious and life-threatening diseases, announced today that research on its Anti-Cancer Technology ("ACT") platform involving its lead Photo Dynamic Compound ("PDC") TLD-1433 has shown that it has significantly less skin toxicity than the Food and Drug Administration ("FDA") approved PDC Photofrin(R).
Photofrin(R) has been documented to induce skin sensitivity in patient's treated with the PDC to sunlight or bright lights after administration. Patients who receive Photofrin(R) will be photosensitive and must strictly avoid exposure of skin and eyes to direct sunlight or bright indoor light (i.e.: examination lamps, dental lamps, operating room lamps, unshaded light bulbs at close proximity, etc.) for at least 30 days post treatment. Some patients may remain photosensitive for up to 90 days or more. The photosensitivity is due to residual traces of the drug, which will be present in all parts of the skin. This necessitates the patient to stay indoors after treatment to prevent potential skin damage.
Theralase employed a mouse model and Inductively Coupled Plasma Mass Spectrometry ("ICP-MS") to measure the levels of TLD-1433 in skin following systemic administration (worst-case scenario). Previously published mathematical models were then used to compare the sensitivity of skin containing TLD-1433 to Photofrin(R). TLD-1433 produced 10,000,000 times less Reactive Oxygen Species ("ROS") in the skin than Photofrin(R); therefore, providing a much higher safety margin to light sensitivity than Photofrin(R) allowing patients the opportunity post treatment to enter direct sunlight within days and not months.
This latest research adds more support to the high safety profile of the lead drug candidate TLD-1433 and its ability to minimize one of the reported side effects of PDT by a FDA approved PDC. Theralase plans to commence clinical evaluation of TLD-1433 in Non Muscle Invasive Bladder Cancer ("NMIBC") in mid 2015.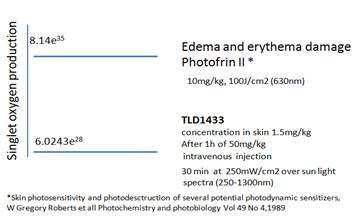 Roger Dumoulin-White, President and CEO of Theralase stated that, "Theralase's ongoing research into the destruction of cancer with our unique patented and patent pending PDT ACT continues to provide strong data supporting both its safety and efficacy in the destruction of this deadly disease. We remain confident in the safety, tolerability and efficacy of our technology in the destruction of cancer and look forward to proving our results clinically in the destruction of NMIBC in humans in mid 2015."
About Theralase Technologies Inc.
Founded in 1994, Theralase Technologies Inc. ("Theralase(R)") (TSXV: TLT) (TLTFF: OTC Pink(R)) designs, manufactures and markets patented super-pulsed laser technology used for the elimination of pain, reduction of inflammation and dramatic acceleration of tissue healing. Theralase has sold over 1,200 systems to licensed healthcare practitioners, including: medical doctors, chiropractors, physical therapists and athletic therapists. Theralase has been so successful in healing nerve, muscle and joint conditions in clinical practice that Theralase's scientists and clinicians have now turned their attention to investigating the application of its lasers in the destruction of cancer, using specially designed molecules called Photo Dynamic Compounds ("PDCs"), which are able to localize to the cancer cells and when light activated, destroy them.
Additional information is available at www.theralase.com and www.sedar.com .
This press release contains forward-looking statements, which reflect the Company's current expectations regarding future events. The forward-looking statements involve risks and uncertainties. Actual results could differ materially from those projected herein. The Company disclaims any obligation to update these forward-looking statements.
Neither TSX Venture Exchange nor its Regulation Services Provider (as that term is defined in the policies of the TSX Venture Exchanges) accepts responsibility for the adequacy or accuracy of this release.
---
Raj Shah has been a member of the InvestorIntel.com team for the last nearly 9 years. Recruited from Merrill Lynch, he has over 13 years' ... <Read more about Raj Shah>
---